So as much as I would love to blame the Blogger outage for my absence; it just wouldn't be fair or accurate. I admit, I have been busy with life outside of the Bloggy world. Boo.
But I am here again and today I would like to bring to you.....things I am loving lately.
FIRST....
I finally got some time to make new items for
the shop.
I seriously want you to know how happy it makes me to make beautiful little items with my own two hands. And because I am so happy and want to thank you for being so great to me....for the rest of the month of May I am offering you 10% of with the code: HAPPYHEART.
I am also loving the kindness of people lately. You know, when someone sees that you are having a difficult time and does something amazing to help you out or to put a smile back on your face. My "boss" (I use quotations because although she is TECHNICALLY my boss, she's a better friend and when you nanny....the word 'boss' is somewhat weird anyway)....well she surprised me at the end of a hard day last week with this.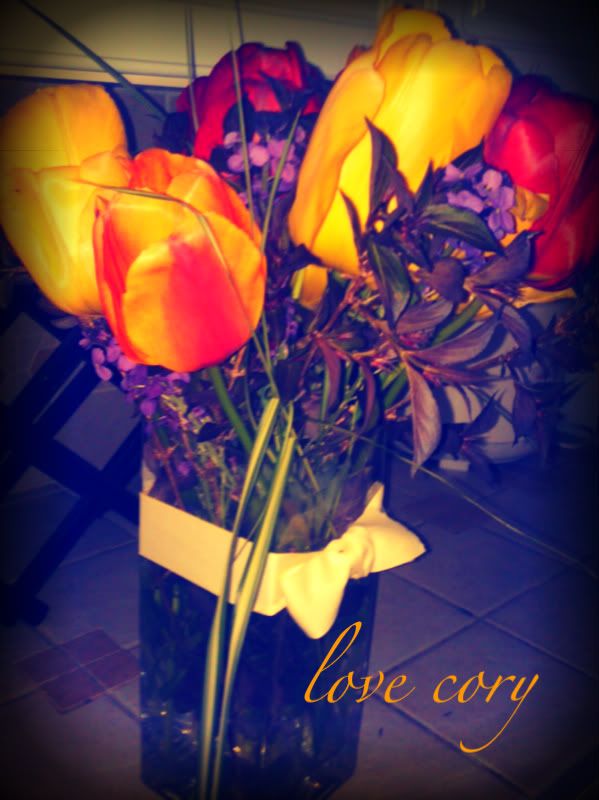 I NEVER EVER get flowers so I was pretty thrilled. Thank you again for making me feel special.
THIRD lovely thing.....
My beautiful bloggy friend Gaby (read her adventures in crafting and yoga
here
) had a fabulous giveaway on her blog for her new etsy shop and I WON! It really is exciting to win giveaways and each time I have; I'm more surprised than the last. But this past week I came home to find this.
Trust me, the cute little headband inside was A-mazing but first I must photograph it on myself (on a good hair day) and send the pic to Gaby and then I will share it here. But you can check out more of her lovelies and get something for yourself from Australia if you visit this
shop.
Oh and finally what I am loving today and pretty much
all the time
is this:
We are working really hard lately to be HAPPY. Not that we don't LOVE each other; just that we've been through A-LOT of rough icky times lately and it's hard not to make that yuck the focus of our every conversation and mood. I challenge you to do the same.
Also....DON'T FORGET to enter the
May Giveaway
while there's still time!
And if you already have....do it again! There's many ways to enter and you could always share it with someone you love.
And if you like me.....could you
LIKE
my Facebook page too? Pretty please? I want to use it to tell you about exciting new things that you may not see here....plus it really needs some love. It's feeling sad. ;)
Thanks lovelies! And Happy Monday!